Jakarta Index:
Cost of Living
2019 Rankings
MARKETS (prices in USD equivalent)
Apples
(1 lb)
Rice
(1 lb white)
Milk
(1 gallon, regular)
MONTHLY UTILITY COSTS (prices in USD equivalent)
Heat, electric, water, cooling, garbage
1 minute mobile tariff
(Without plan)
Home internet
(200 mbps)
TRANSPORTATION
Monthly pass
(Local rail)
Gasoline
(1 gallon)
Taxi start cost
(Normal tariff)
Taxi 1 mile
(Normal tariff)
Taxi 1 hour waiting
(Normal tariff)
TRAFFIC INDEX GLOBAL RANKING (2019)
Traffic Index is a composite index of time consumed in traffic due to job commute, estimation of time consumption dissatisfaction, CO2 consumption estimation in traffic and overall inefficiencies in the traffic system.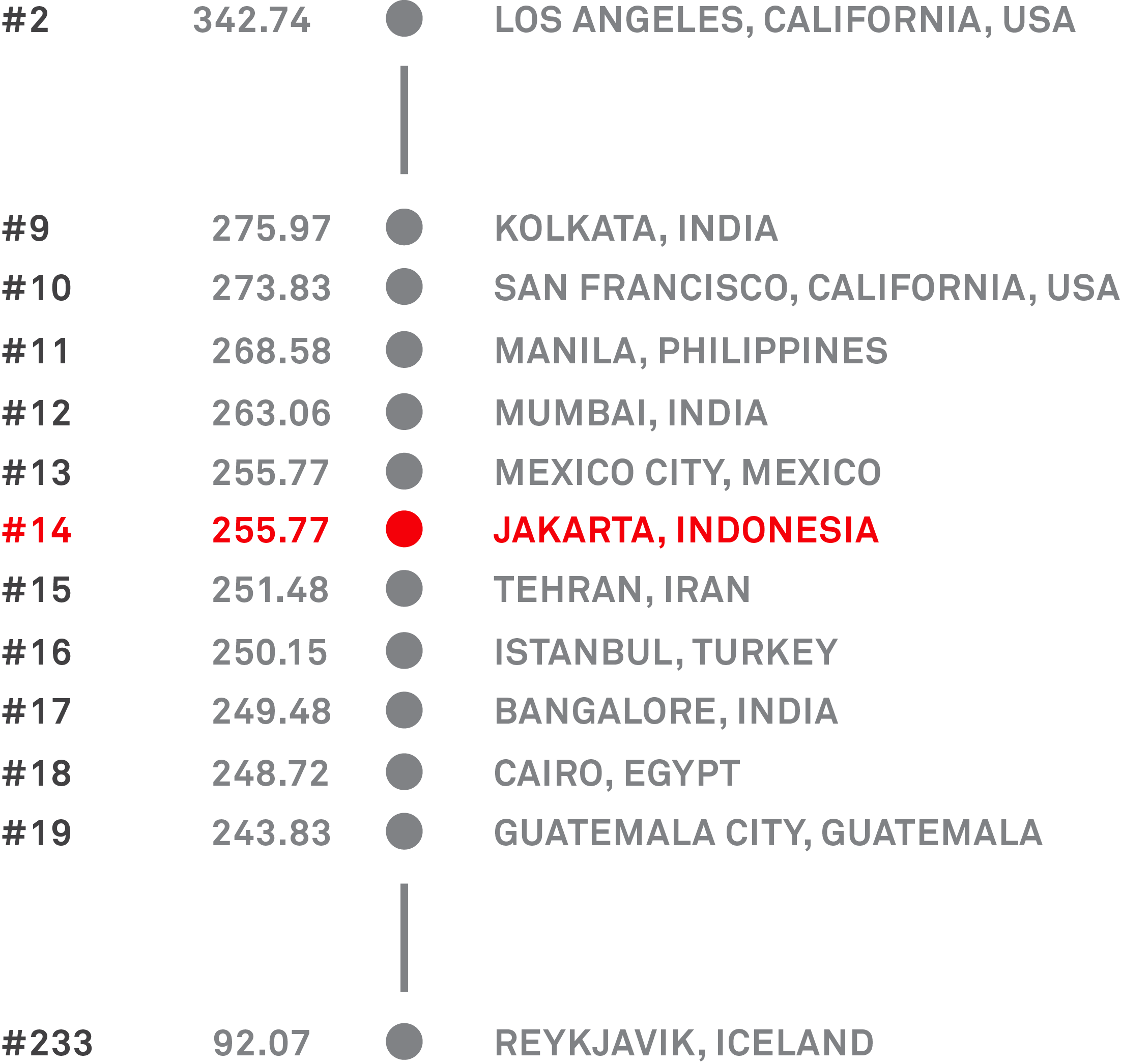 NO. OF PEOPLE ORDERING TRANSPORT, FOOD AND OTHER RIDE SERVICES

SOUTHEAST ASIA RIDE HAILING SECTOR ESTIMATED MARKET CAP
INDONESIA E-COMMERCE ESTIMATED MARKET CAP BY 2025
Just over a decade ago, almost four in five Southeast Asians had no internet connectivity and limited access to the internet. Today, Southeast Asians are the most engaged mobile internet users in the world. There are 360 million internet users in the region, and 90% of them connect to the internet primarily through their mobile phones. Powered by these fundamental changes in consumer behavior, the internet economy continues to grow at an unprecedented pace. It has soared to $100 billion for the first time in 2019, more than tripling in size over the last four years. e-Commerce and Ride Hailing continue to beat the most optimistic of predictions. Online Media and Online Travel keep growing at a steady rate, with ample room to expand further. By 2025, the internet economy is expected to grow to $300 billion.1Google's "e-Conomy SEA" is a multi-year research program launched to shed light on the Internet economy in Southeast Asia. It covers the six largest markets in the region: Indonesia, Malaysia, the Philippines, Singapore, Thailand and Vietnam. The 2019 report covers five key sectors of the Internet economy: Online Travel (Flights, Hotels, Vacation Rentals); Online Media (Advertising, Gaming, Subscription Music and Video on Demand); Ride Hailing (Transport, Food Delivery); e-Commerce; and Digital Financial Services (Payments, Remittance, Lending, Investment, Insurance).
SOURCES: numbeo.com, globalpropertyguide.com, Google e-Conomy SEA 2019 Report, tradingeconomics.com