Beijing Index:
Cost of Living
2019 Rankings
MONTHLY UTILITY COSTS (prices in USD equivalent)
Heat, electric, water, cooling, garbage
485 out of 589 (very low)
Mobile data plan
(20 gb)
368 out of 450 (very low)
Home internet
(200 mbps)
475 out of 589 (very low)
CLOTHING COSTS (prices in USD equivalent)
One pair blue jeans
(Levis or similar)
208 out of 584 (high)
One summer dress
(H&M or Zara equivalent)
266 out of 579 (moderate)
One pair Nike shoes
(Mid-range)
201 out of 587 (high)
THE BIG MAC INDEX 2019
—
47
%
In 2019, a McDonald's Big Mac cost 21RMB in China and 5.74USD in the United States. The implied exchange rate for this price differential is 3.66. The difference between this and the actual exchange rate between the RMB and the USD in 2019, 6.88, suggests the Chinese yuan is 46.9% undervalued.1The Big Mac Index was invented by The Economist in 1986 as a lighthearted guide to whether currencies are at their "correct" level. It is based on the theory of purchasing-power parity (PPP), the notion that in the long run exchange rates should move towards the rate that would equalise the prices of an identical basket of goods and services (in this case, a hamburger) in any two countries.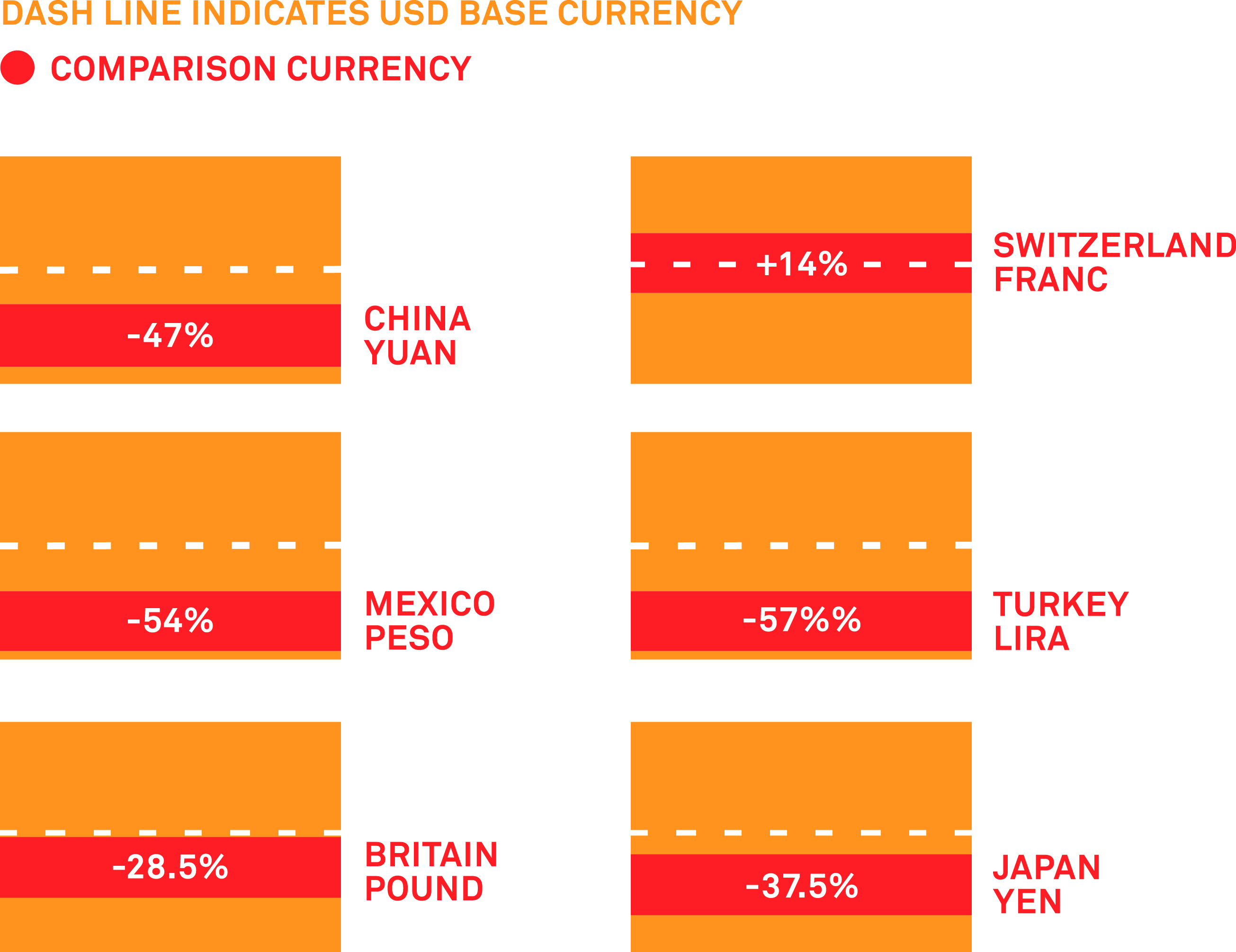 COST OF A MCDONALD'S COMBO MEAL
APARTMENT PURCHASE PRICE PER SQUARE FOOT

SOURCES: numbeo.com, China Mobile, The Economist, globalprice.info